We are the grassroots organization that has organized to advocate for a "NO" vote on Question 2, the ballot initiative that seeks to impose Ranked Choice Voting (aka, Instant Run Off voting) upon the residents of Massachusetts.
Ranked Choice Voting ballots force voters to guess the candidates who will remain standing in multiple voting rounds and cast their votes in the dark. If they guess wrong and vote for eliminated candidates, their ballots are not counted in the final vote. Winners win a false "majority" of remaining ballots, not a true majority of all the voters voting in the election.
Learn more at: Protect My Ballot
Visit Us on Facebook: No Ranked Choice Voting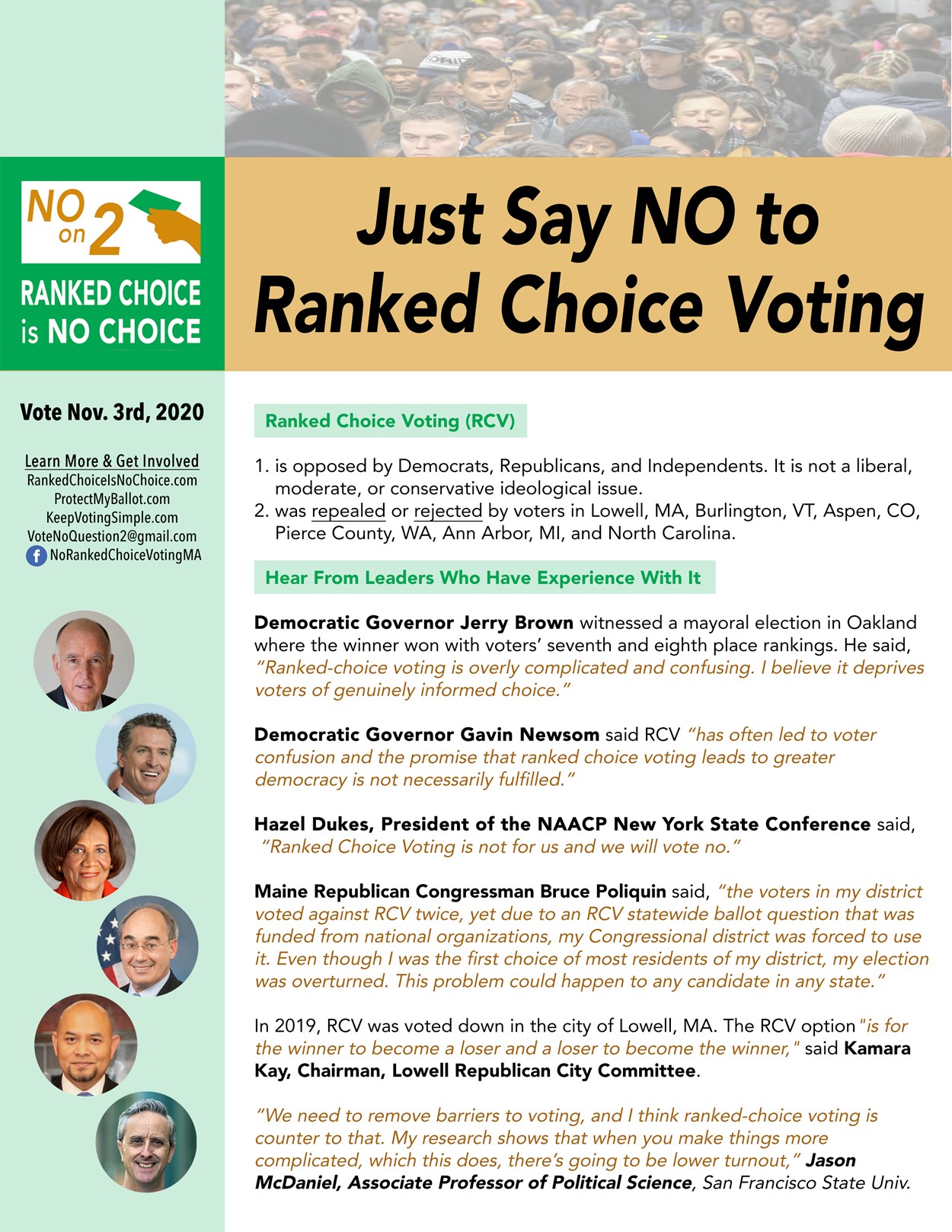 Download and share this flier.
Text Version:
Just Say No to Ranked Choice Voting for Massachusetts

Ranked Choice Voting (RCV):
1. is opposed by Democrats, Republicans, and Independents. It is not a liberal,
moderate, or conservative ideological issue.
2. was repealed or rejected by voters in Lowell, MA, Burlington, VT, Aspen, CO,
Pierce County, WA, Ann Arbor, MI, and North Carolina.

Hear From Leaders Who Have Experience With It:

Democratic Governor Jerry Brown (D-CA) witnessed a mayoral election in Oakland
where the winner won with voters' seventh and eighth place rankings. He said,
"Ranked-choice voting is overly complicated and confusing. I believe it deprives
voters of genuinely informed choice."

Democratic Governor Gavin Newsom (D-CA) said RCV "has often led to voter
confusion and the promise that ranked choice voting leads to greater
democracy is not necessarily fulfilled."

Hazel Dukes, President of the NAACP New York State Conference said,
"Ranked Choice Voting is not for us and we will vote no."

Maine Republican Congressman Bruce Poliquin said, "the voters in my district
voted against RCV twice, yet due to an RCV statewide ballot question that was
funded from national organizations, my Congressional district was forced to use
it. Even though I was the first choice of most residents of my district, my election
was overturned. This problem could happen to any candidate in any state."

In 2019, RCV was voted down in the city of Lowell, MA. The RCV option"is for
the winner to become a loser and a loser to become the winner," said Kamara
Kay, Chairman, Lowell Republican City Committee.

"We need to remove barriers to voting, and I think ranked-choice voting is
counter to that. My research shows that when you make things more
complicated, which this does, there's going to be lower turnout," Jason
McDaniel, Associate Professor of Political Science, San Francisco State Univ.

Vote Nov. 3rd, 2020